Wonder
Written by R.J. Palacio
Reviewed by Vyas I (age 9)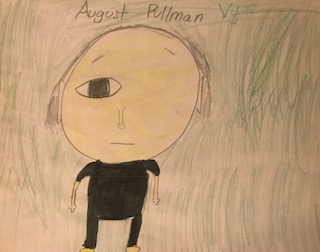 Hello, I am doing a book report on the book Wonder. I am specifically doing a book report on Wonder because it is a great book and movie. So basically Wonder is about this kid named August Pullman and he has had many surgeries that prevented him from going to school. But when he reaches 5th grade, his parents think it's a good time to start school. But at first, August doesn't want to go to school but after a few months, but after a few months, he loves it and he makes friends. That's basically Wonder.
My favorite part is when August gets a friend because he was a lonely boy and no one liked him because they thought he had some sort of disease and I felt bad for him. At the end of the book, I cried because it was so sad when his dog Daisy died and August had to put her down. I felt that August shouldn't have been treated so badly and mean.
I think this is a great book for ages 7-11 because it has a lot of emotions and feelings. In this book, it shows many people's expressions through a first-person perspective. I think this book is very unique because it shows people's ideas and like I said, it has a first-person perspective. If you don't understand what I'm talking about, then read the book! That's basically why I chose to do Wonder as my book report.