The 39 Clues The Maze of Bones
Written by Rick Riordan
Reviewed by Alex M (age 10)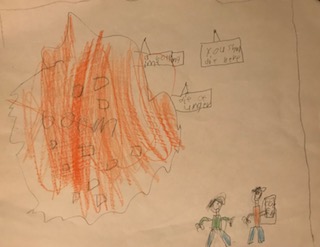 I read a book by Rick Riordan, called the 39 Clues- Book 1, The Maze of Bones.
Now I have a question, if you were an orphan and you found out you were part of the most powerful family in the world and its power has been lost and can only be found by getting 39 clues- you get a million dollars or the first clue. What would you choose? Amy and Dan Cahill choose the first clue along with their family.
I really liked this book because it has awesomeness, adventure, battle, teaming, hiding, helicopters, secrets, and craziness. And 1 rule: don't trust anyone. My favorite character is Ian Kabra because he was clever, sneaky and because he was part of the Lucian branch my favorite branch and I liked Jonah wizard from the Janus branch art maniacs and Hamilton Holt from the Tomas branch and Sinead Starling from the Ekatrina or Ekats for short inventor guys and from the magrigal branch.
I strongly suggest this series if you like action, adventure, explosions, bombs, dart guns, and stuff like that.