Annie and Snowball and the Pink Surprise
Written by Cynthia Rylant
Illustrated by Susie Stevenson
Reviewed by Anaiya R. (age 9)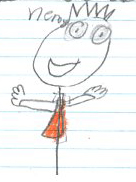 Annie, Henry's cousin, has a beautiful garden full of flowers. Henry and Mudge like to visit and play in Annie's garden. One day a hummingbird visits and Annie and Henry wonder how they can attract even more hummingbirds. They decide to ask Annie's father. He comes up with and idea. If you are wondering what the idea is, and if it works, then you should read this book.
I like this book because it's funny. One funny part is when Henry and Mudge run around the garden. The pictures in this book are pretty and colorful. I also like this book because after reading it, it makes me want to read more Henry and Mudge books.
I would recommend this book to my sister because she likes to laugh. I would also recommend this book to students who have read other Henry and Mudge books. They would definitely like this one!