The Call of the Wild
Written by Jack London
Reviewed by Jacob G. (age 10)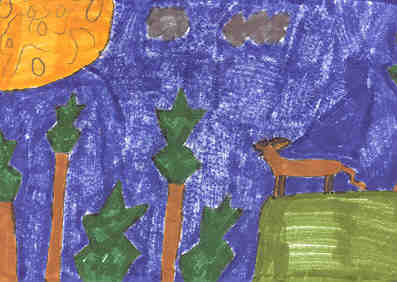 The Call Of The Wild is about a dog named Buck. He is stolen from his owner and taken by a train. The train takes him to a place where dogs are sold. He stays there for a while and is soon sold to a dogsled team. The team then travels by a boat to Oregon. He learns how to work a sled. Soon the whole team is put together and on the trail. Buck had to learn how to survive there. The dogs did many things and traveled a lot. The lead dog wants to fight Buck. To find out who wins read The Call The Of Wild.
The Call Of The Wild is a good book. I liked this book because it took place in the wild and outdoors. My favorite part was when Buck found his wild brothers and ran with them. Buck was a character that changed from a housedog to a member of a wolf pack.
I would recommend this book to people who like dogs and the outdoors. What might interest readers are the characters. They are people and dogs. This story tells me some things that I did not know. The Call Of The Wild is a good book to read.