Lulu Walks the Dogs
Written by Judith Viorst
Illustrated by Lane Smith
Reviewed by Juls T. (age 8)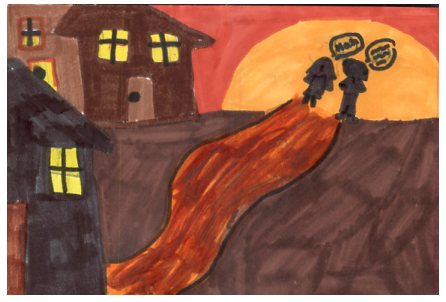 Do you like funny books? Well then Lulu Walks the Dogs by Judith Viorst and illustrated by Lane Smith is a good book for you. In the story, there is a rude young lady named Lulu. She really has it out for Fleischman, a helpful neighborhood boy who does chores to earn money. Lulu wants something very badly in the story, but when she asks her parents to get it for her, they say no, which they rarely do. They suggest that she earn money like Fleischman does. He is so perfect that it makes her ill when she hears him say, "Oh Mrs. King, take back a dollar." Or, "Mrs. Rossie, you don't have to thank me." Lulu decides to start a dog walking business and even though she hates to admit it, she needs Fleischman's help. When she meets the dogs Brutus, Pookie and Cordelia, they will not listen to her, but they listen to him. Fleischman gives Brutus treats, plays the flute for Pookie, and speaks German to Cordelia. Things are going so well Fleischman says to Lulu, "We make a good team." Instead of agreeing, Lulu scowls and says, "We will NEVER be a team. I'm the dog-walking boss and you are only my assistant." He turned away silently and headed home. The next time when Lulu gets to Brutus's house, Fleischman isn't there. Lulu has to walk the dogs all by herself. Lulu tries to give treats to Brutus, play the flute for Pookie, and speak German to Cordelia, but instead she ends up tied to a tree. Lulu screams for help. Will Fleischman save the day and rescue Lulu? Will she ever get what she wants? Read the book to find out.
I think this book has a lot of funny illustrations. For example one shows Lulu pulling Brutus as hard as she can, but Brutus does not move. I think this is funny because Brutus has his tongue sticking out and he has planted himself on the ground with his head up in the air not paying any attention to Lulu who is pulling the leash with all her strength. She is grinding her teeth and yanking the rope. My favorite part is when Lulu meets Brutus. I like this part because Brutus is lying down on Lulu and slobbering all over her face. Brutus's owner says, "He likes you. He really likes you. And believe me, this is a dog that doesn't like everyone.' It's funny because Lulu responds, "And believe me, I'm a girl who also doesn't like everyone." Lulu is my favorite character because she is always yelling at Fleischman. For example Lulu is yelling because he won't untie her from a tree. Lulu cries, "An assistant unties his boss," giving Fleischman one of her fierce glares. Even though he tells her that he quit she says, "A person can't quit on Friday just by not coming back to work on Monday. A person has to say, 'I quit' to quit!" In my opinion this is a funny book because it has great characters, illustrations and scenes.
I would recommend this entertaining story to readers in the second to fourth grade. The story has a mixture of text and descriptive illustrations that make it easier to read. I also would recommend this book to readers who like books on working together and figuring things out when they don't go well. I hope you enjoy Lulu Walks the Dogs as much as I did.