Melvin Beederman Superhero Terror in Tights
Written by Greg Trine
Illustrated by Rhode Montijo
Reviewed by Matthew S. (age 8)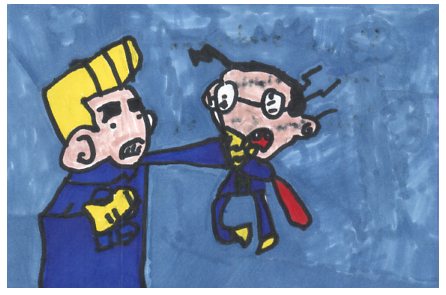 Melvin Beederman Terror in Tights, by Greg Trine and illustrated by Rhode Montijo, is an interesting book about a boy named Melvin who doesn't believe in himself. In the beginning, Superhero Carl is giving Melvin Beederman threatening messages. He types, "Roses are red. Violets are blue. I'm going to get you, if that's the last thing I do." Carl and Melvin never got along at the academy. Carl was always bragging. When the story moves on, Superhero Carl changes his name to S.C. to confuse Melvin Beederman. S.C. goes onto the Goodship Lollipop to get Melvin in Los Angeles. While S.C. was on the Lollipop, Melvin was helping Candace Brinkwater, his sidekick, with her math homework. Read the book to find out if S.C. catches up with Melvin.
This book has many hilarious pictures. My favorite picture was divided into four parts showing Melvin going crazy stopping crime because he is trying to stay alert. In one illustration, a bad guy is after him, and he's afraid if he falls asleep, he'll be captured. In another illustration, Melvin's stopping kids from putting graffiti on the walls. The kid's mouth is open, and his eyes are popping out. Melvin also breaks up a bar fight and almost gets squished in one illustration. The illustration of Melvin dancing at Eddy's Amazing Disco All Night Carwash was also funny. Melvin also stops a runaway bus on Wilshire Ave in another illustration in this book. My favorite part is when Carl escapes the Goodship Lollipop with his inflatable lair that he bought at Big Al's Rent-A-Lair. When Carl was on his lair, he was saying, "I'm going to get you Melvin if it's the last thing I do."My favorite character was Superhero Carl because he used to be a good guy, but then he made a website showing all of the superheroes' weaknesses. After Master Spinner took Superhero Carl's cape, he was stuck on the Fiji Islands. There was one ship that went from the Fiji Islands to America. He went to Superhero Academy and stole Superhero Charlie's cape. When Carl got to Los Angeles and found Melvin, Carl said, "Any last words?" Melvin said, "Candace." Carl said, "I said last words." Melvin said, "Candace Brinkwater." Candace heard Melvin and flew to help him. She sang country music, Superhero Charlie's weakness, and Carl's super choke became weaker. After a while, Carl was saying he couldn't move and to get him out of there. After Carl went to the judges, the judge said, "One year on the Lollipop." Carl said, "Anything but that." The judge screamed at Carl, "One year on the Lollipop!" The judge liked Melvin and Candace, so that's why he sent Carl on the Goodship Lollipop. These are some reasons why I really enjoyed this book.
I recommend this book to people in third and fourth grade. I recommend this book to third and fourth graders because it has a little text on every page. I like this book because he asks himself a question and answers it. I like that because it keeps you curious and makes you want to read more. All of the pictures were hilarious, but one picture was great. The picture on page 47 is the one split into four equal parts. One thing I didn't like about the book is that every picture, with the exception of the cover, is in black and white. Even though the pictures are in black and white, you can still tell what is going on. I hope that you enjoy Melvin Beederman Terror in Tights as much as I did.