Charlotte's Web
Written by E.B. White
Illustrated by Garth Williams
Reviewed by Bea G. (age 10)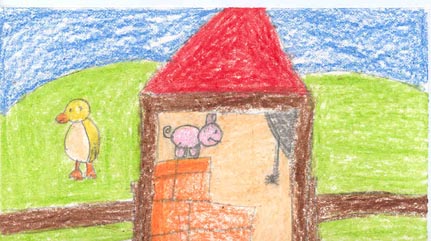 Charlotte's Web teaches a very valuable lesson. Charlotte's Web is about a girl, Fern, who really liked a pig. The pig's name was Wilber. But her father didn't like Wilber. He wanted to kill it because it was a runt but she wouldn't let him. So he let her have it. One day her father says that the pig had to go to a different farm down the road. When Wilber left she cried and cried and cried. She went to see him every day. One day a spider teaches Wilber to talk. When Fern found out that Wilber could talk she tried to get her family to believe her but they didn't. While Wilber was there he met a rat. Since Wilber missed the Fern so much he didn't eat very much. So the rat ate almost everything. One day they took him to the fair to enter a contest. When they tried to put him in a cage he ran all over the place. When they finally got him in Wilber asked the spider (Charlotte) to come with him and he asked the rat to come with him. So they went to the contest with him. When they got there she met a boy. So she went to ride rides with him. Charlotte had babies then she died. When Wilber took her sack of babies home they hatched. Then they all started to leave but three stayed. Read the book to find out if he wins or worse if he doesn't or if the three stay with Wilber.
This book is very good because it teaches a lesson. This lesson is you shouldn't judge someone just because they're different. Charlotte's Web is funny because when Wilber takes a bath it makes a big mess. I like this book because I like pigs.
I recommend this book to people who like to read about pigs. I recommend that you read another one of E.B. White's books because they are really good. I recommend this book to 3rd or 4th graders.