Lulu and the Brontosaurus
Written by Judith Viorst
Illustrated by Lane Smith
Reviewed by Hannah N. (age 8)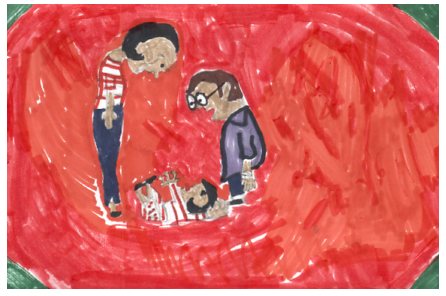 Have you ever wanted something and your parents said no? Well, if you did, you can read Lulu and the Brontosaurus by Judith Viorst. This book is based on a little girl named Lulu and how she doesn't always get what she wants, but she certainly gives it her best shot. In the beginning, Lulu screamed to her parents that she wanted a brontosaurus, but, due to her anger, her parents say no. Despite Lulu not giving up, her parents continued to say no. They tried to offer a compromise by saying that she could have any other pet she wanted, except for a brontosaurus. Her dad even offered a nice, pet rat. Lulu didn't want a rat. She wanted a brontosaurus. Her mom and dad just kept on saying no. Lulu was furious, so she decoded to go out into the woods to get one for herself. She packed a little suitcase filled with all the stuff she would need. While on her journey she sang a really annoying song based on the fact of how she was getting this wild pet. Because of all this racket, the animals that lived in the forest started attacking her one by one to make her stop. Since Lulu was so desperate for a brontosaurus, she had enough determination to attack and intimidate them. By now she was in the heart of the forest. Finally, she had gotten to the brontosaurus. Will the brontosaurus be her pet? You will have to read the book to find out.
Lulu is a very spoiled, rude, fierce, little girl. Lulu is spoiled because her parents would give her anything she wanted. Lulu is fierce because on her way to the brontosaurus, she bonked her suitcase on a tiger's head, squeezes a fat, brown snake and stomps on a bear's foot. Lulu is rude because when her parents wouldn't get her a brontosaurus she said, "O.K. foo on you. If you aren't going to get me a brontosaurus, I'm going to get one myself." I think the illustrations are funny because one picture shows Lulu on the floor during one of her horrible tantrums screeching till the light bulbs burst, waving her arms and kicking her feet, as her parents looked at her as if she was one of the craziest people they'd ever met. This book is like no other book. I like how it is dramatic, funny, and interesting. The reason why this book is dramatic is because instead of Lulu just understanding that she couldn't have a pet brontosaurus, she threw one of her world-famous tantrums. This book is funny because on her journey to get the brontosaurus, Lulu sings an annoying song that goes like this, "I'm gonna, I'm gonna, I'm gonna, gonna get a bronto-bronto brontosaurus for a pet. I'm gonna, I'm gonna, I'm gonna, gonna get a bronto-bronto brontosaurus for a pet." I find this book interesting because I never read a book that was based on a girl who really wants a pet brontosaurus for her birthday. It gets me wondering on how she will be able to get a pet brontosaurus in such an odd way. I find being rude to your parents and going to the woods alone just to get a brontosaurus, a rather odd thing to do.
I think readers who like dramatic and funny books should read this book. Lulu certainly shows those things and more in Lulu and the Brontosaurus. I hope you read this book!