Nancy Drew and the Clue Crew: Ticket Trouble
Written by Carolyn Keene
Illustrated by Macky Pamintuan
Reviewed by Zoe L. (age 8)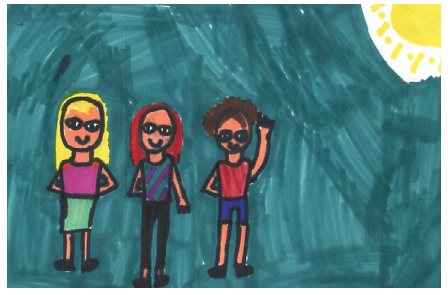 Do you like mysteries? If you do, you are in for a treat. Nancy Drew and the Clew Crew Ticket Trouble written by Carolyn Keene and illustrated by Macky Pamintuan is an awesome book. In the beginning, Nancy, Bess, and George are all super excited because they were at the River Heights Elementary School Fall Festival. The girl could not believe that their school infield had been turned into booths with blinking lights, games, and rollercoasters. All of a sudden Ned, one of Nancy's friends, comes running up in a panic and tells the girls that someone stole his tickets. The girls are on the case. Later on, the girls retrace Ned's steps, but they are running out of time. The Clue Crew suspect Natalie, Suzie and Deirdre because the last time they saw those girls, they had a lot of tickets. Unfortunately they can't prove it's them. Will they find the missing tickets before all the fun at the fall festival ends? You will have to read the book to find out.
I think Nancy Drew and the Clue Crew Ticket Trouble is an exciting mystery because it really kept me reading. I really wanted to know who stole Ned's tickets. The author, Carolyn Keene, did an amazing job adding details throughout the story that kept me guessing. For example in the story, the author explained that there were scratch marks exactly where Ned had put his tickets. That made me wonder what had made them. Another time Nancy was tying her shoe and she saw one a ticket with an "N" for Ned on it under a tree. That made me wonder if the bird who had taken Susie's hairclip might have something to do with Ned's tickets. I liked many parts in the book but my favorite one was when the Clue Crew is on the apple-bobbing booth. Deirdre says she is going to win. George gives advice and says she should for the smallest apples because the big ones don't fit in your mouth. Deirdre doesn't listen and does not get an apple. George proves to Deirdre that it wouldn't be that hard if she had only listened. In response Deirdre puts her hands on her hips and huffed. I think the illustrations by Macky Pamintuan are very descriptive. My favorite is when the Clue Crew is at the chili cook-off. Hannah, the housekeeper, is making chili and tells the girls to try it. The girls try the chili and they think it's amazing. The picture shows Hannah standing behind her chili pot and Nancy about to kiss her on the cheek because Hannah is wearing an apron that says, "Kiss the cook." Nancy Drew and the Clue Crew Ticket Trouble is an awesome book, and I hope you enjoy it as much as I did.
If you love reading mysteries, I highly recommend this book to you because it shows that hard work pays off. Second through third graders would especially like it because there are 87 pages, not too long, yet there are some words that are a bit tricky. I would give this book 5 stars and 2 thumbs up. Readers who enjoy detailed illustrations that help you better understand the story would also appreciate this book. It's a great story that really kept me on my toes.