Nancy Drew and The Clue Crew: The Zoo Crew
Written by Carolyn Keene
Illustrated by Macky Pamintuan
Reviewed by Sydney C. (age 8)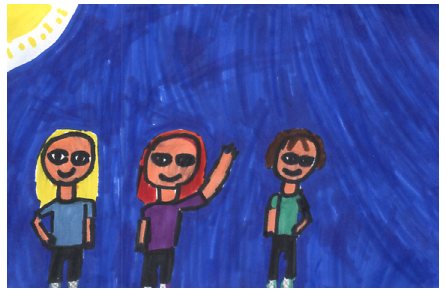 Nancy Drew and the Zoo Crew by Carolyn Keene is a great book about a group of friends that love to solve mysteries. In the beginning, Nancy, Bess, and George are at zoo camp and they are meeting their counselors and fellow campers. They are learning about how animals live in the wild. They also get zoo camp jobs and they get to make the enrichment toys for the animals. The Clue Crew gets outfits with badges for their team, Team Panda. These enrichment toys are important because they teach the animals how to get used to life in a zoo. For example they make a feather duster for the parrots to play with. They are so excited, but when they wake the next day, the toys are gone! They search everywhere around the zoo camp but there is no sign of them. The Clue Crew suspects Team Weasel. Team Weasel was very upset when Nancy, Bess, and George got to make the toys for the animals and they did not. Next they suspect the owner of the camp's child Ethan. He is an inventor, but his dad does not like his toy inventions he makes for the animals, so they think he might have replaced his toys with the girls' toys. The rest of the time at the camp is spent trying to find the toys. They only have one more day to find them. Read the story to find out who or what stole the toys!
This book by Carolyn Keene is a very entertaining mystery. In my opinion, Abby, from Team Weasel, is rude, sassy, and mean. I think that because Bess gives her a compliment and Abby answers back with a tone. When looking at Bess notes, "Pink is my favorite color." Abby answers back, "It's not pink, it's dusty rose!" Abby also wants to be the one who makes the enrichment toys for the animals. That's why I think Abby, is rude, sassy, and mean. My favorite part is when Team Weasel puts a fake snake in Abby's bag to scare Nancy, Bess, and George. The part I like about that is when Bess screams, "SNAAAAAAAKE!" because she is so scared. My favorite illustration in the book is when Team Panda is at a party to celebrate the end of camp and they are dancing with funny animal masks. Bess has a bear mask and George has a sheep mask. Nancy is wearing a giraffe mask. The picture shows them dancing and laughing together. It makes me giggle. That is why I liked the book.
I would recommend this book to second to third graders who enjoy reading mysteries. I think these readers would enjoy it because there are many possible suspects who could have stolen the toys. The book really kept me on my toes because I wanted to figure out where the missing toys went. Carolyn Keene did a great job keeping the mystery going. This book also involves a lot of teamwork to solve the mystery. That is why I would recommend this book to second to third graders.