Marvin Redpost A Flying Birthday Cake?
Written by Louis Sachar
Illustrated by Amy Wummer
Reviewed by Chris M. (age 10)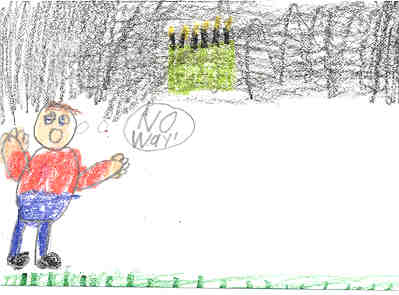 Wow!!!!! A green cake! Marvin is a normal kid until he sleeps over at his best friend Nick's house. Marvin is sleeping in his friend's back yard. But he can't sleep. He's looking in the sky when he sees a strange green cake. "I could not have seen a flying cake," he says to himself, "I must have had too much punch." A new kid arrives at Marvin's school. Marvin invites him to sleep at his house and he does. Nobody likes him but then weird stuff starts to happen and everyone likes it.
I really enjoyed reading this because it was very strange and mysterious. My favorite part was when Joe teaches them a new game. I like it because everyone else loves the game. My favorite character is Joe. I like him because he is very mysterious, and crazy.
I recommend this book to kids who like strange things like flying cakes, and to people who like mysteries. I enjoyed this book. If you read it, you will like it too!