Mysteries According to Humphrey
Written by Betty G. Birney
Illustrated by Betty G. Birney
Reviewed by Rachel A. (age 9)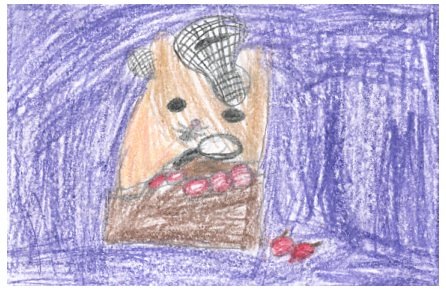 Have you ever solved a mystery? In Mysteries According to Humphrey, by Betty G. Birney, Humphrey (the class hamster) solves two mysteries. In the beginning, when Mrs. Brisbane (the teacher) doesn't come to the classroom to open up her classroom door, Humphrey starts to get worried. Instead, a substitute (Mr. E) comes in, but does not follow Mrs. Brisbane's plans for the day, and the class does fun learning games instead. Next, Humphrey thinks Mrs. Brisbane may be going to dance school because a note from her said, "I'll be up on my feet dancing soon!" Suddenly, Mr. E surprises the class by actually following the lesson plans from Mrs. Brisbane's planning binder. He fits in a lot more before and after lunch than Mrs. Brisbane usually does. You really need to read this book to find out what happens at the end. Does Mrs. Brisbane really go to dance school or is she out for some other reason?
I know you will have to agree that Mysteries According to Humphrey by Betty G. Birney is an amazing book! First of all, it teaches you about new words. For example, there are two words you'll learn about, piewhacked and pursizzle. You'll have to read the book to find out what those two words mean! Furthermore, Humphrey has perseverance. For example, Humphrey keeps on trying to figure out why Mrs. Brisbane is not at school. In addition, the characters are clever. For example, Mr. E does a spelling bee to see who is going to take home Humphrey for the weekend. All in all, Mysteries According to Humphrey is a GREAT-GREAT-GREAT book!
If you like mysteries then Mysteries According to Humphrey is a book that you should read. Have you ever solved a mystery? I give this book five stars because there is a hamster who knows how to read and write. If you like learning new things then this is the book for you. I highly suggest Mysteries According to Humphrey because it is AWESOME-AWESOME-AWESOME!