Lulu Walks the Dogs
Written by Judith Viorst
Illustrated by Lane Smith
Reviewed by Landon B. (age 9)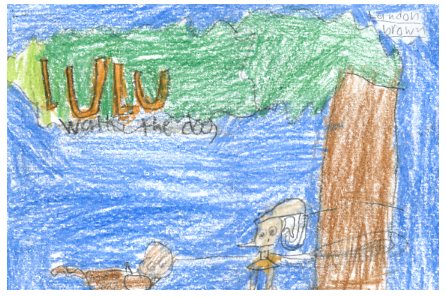 Lulu is a girl who wants to raise money for something she wants. Lulu wanted something, but it did not say in the story what she wanted. The problem was Lulu wanted to get something, but she could not get it. So he solved her problem by being a dog walker. This solves the problem for the money. Now lulu is going to be a dog walker, so she could raise more money. But Flechmen always gets in the way of what Lulu is doing, well at least that is what Lulu thinks. Lulu is really annoyed by Flechman because she thinks he is perfect. So, she gets very mad. Flechman said "No one is perfect. Everyone has a fear or something." Then Lulu and Flechman get along with each other.
My favorite part is when Lulu got tied up to a tree and Flechman had to untie Lulu. This book reminds me of my mom because she is a dog walker and takes care of dogs. The lesson of this story is treat others the way you want to be treated. In the book, Flechhman was treating Lulu nice, but Lulu was treating Flechman badly.
I recommend you read this book because it is a funny book to read. For example, when Lulu was really mad at Flechman because Lulu thought Flechman was perfect. I recommend this book to my mom because she is a dog walker, and she takes care of dogs. I think this will interest readers because Lulu wants to raise money for something she wants, so she works to get that. I think that's really cool because she works for something she wants to do.