Scooby-Doo and the Caveman Caper
Written by James Gelsey
Reviewed by Matthew C. (age 10)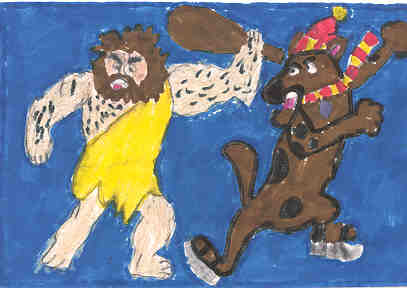 This story is about Scooby-Doo and his friends named Shaggy, Velma, Daphne, and Fred. Daphne won a skating contest and gets to skate with Betty Kunkel. She used to be a top professional figure skater. Then a caveman stole her silver skates. If you want to find out how caveman got there and what happened to the skates you have to read to find out.
I like this book because it is funny and had great characters. My favorite characters are Scooby-Doo and Shaggy. My most favorite part is when Scooby-Doo was chasing the caveman with the zamboni. I think the funniest part was when Scooby-Doo dressed up like Betty Kunkel and Shaggy as her coach. If you like funny stories this is the book for you.
I recommend this book to people who like mysteries. I also recommend this book to people who like funny stories. A reader who likes funny mysteries would like this book. People who watch the T.V. show would like this to. The books are small and easy so any age can read this book.