Magic Tree House: Dark Day in the Deep Sea
Written by Mary Pope Osborne
Reviewed by Hannah K. (age 9)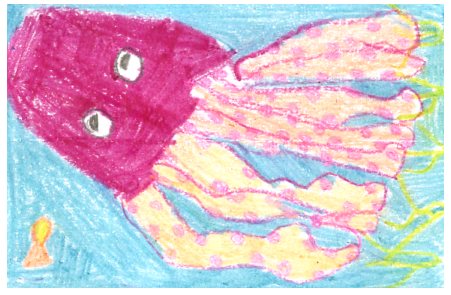 Have you ever read DARK DAY IN THE DEEP SEA? Well, if you haven't then you should. In the book Jack and Annie are on a mission to find another secret of happiness like they did in the other books. Three men invite them into their ship but there was a huge storm! Jack and Annie both fall off the boat. "Something around Jack's waist was holding him up." it said in the book. Many interesting things happen in this book and if you want to find out what then run to your nearest library!
In my opinion this book is great because I love sea creatures. Also, I love the character Annie. I love her because she likes animals, just like me. Additionally, I can connect to Annie because Annie is the youngest in the family and I am the youngest in my family too. I can also connect to Annie because she gets bossed around a lot by her older brother Jack!!! I also complement the author Mary Pope Osborne because she always introduces me to new words that I can use in my writing! Finally, my favorite part of the book is when Jack and Annie are exploring the boat, that gives me a chance to imagine what's in the boat. I also liked the illustrations because they are really detailed drawings.
I recommend this book to 2nd and 3rd graders. I also recommend this book to kids that love magic and mysteries.