Charlie and the Chocolate Factory
Written by Roald Dahl
Illustrated by Quintin Blake
Reviewed by Lola G. (age 8)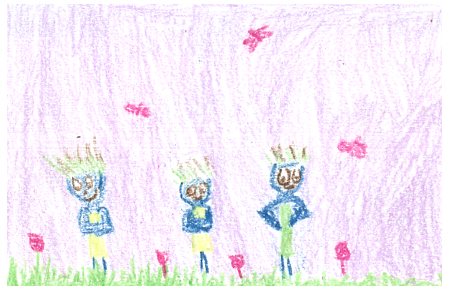 Do you love Chocolate? Well of course you do it's chocolate so listen up! This is a story of a young and eager boy named Charlie. Charlie wanted to go to Willy Wonka's chocolate factory. Some people say there's all sorts of things inside and he wanted to know what.Then on the way to school something caught Charlie's eye. It was a 5 dollar bill. Charlie raced with the bill in his hands and he bought a chocolate bar. He opened it carefully and … If you want to know what happens next find this chocolatey book and look through all the pages.
In my opinion I love when the Oompa-Loompas came out. I love this part because it is unexpected and funny. In that part Veruca Salt said "daddy I want an oompa - loompa!" That part was funny! I also loved when Violet turns into a blueberry!!! I love that part because it is humorous and exciting. In this part Violet said " I want the gum." The last of my favorite parts is when Mike goes into the T.V. I love this part because it is very active. I can relate with Charlie because I always LOVED CHOCOLATE!!!!!! Roald Dahl is an amazing author because he uses colorful words. Quentin Blake is a good illustrator because the sketches are a very important part of the book because they were hilarious.
I would recommend this book to 3rd - 5th graders because it is very funny. I will also recommend this to my friend Hannah, because she saw the movie and really liked it.