A-Z Mysteries: The Haunted Hotel
Written by Ron Roy
Illustrated by John Steven Gurney
Reviewed by Theresa S. (age 8)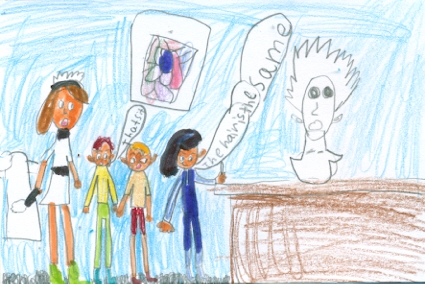 The book is about three kids named Dink, Josh and Ruth Rose and they love solving mysteries together in their town. When the Shangri-La Hotel gets haunted the kids have to find clues to solve the mystery of who is the ghost! That is all I can tell you! Read the book to find out if they solved the mystery of the haunted hotel!
I liked the character named Ruth Rose the best. I liked her because she has a good personality and I like that she wears only one color. For example, she wore only blue, a blue shirt, blue shoes, blue pants and a blue head band. My second opinion is one of the characters Ruth Rose reminds me of my friend Samira because she wears cat ears every day and Ruth Rose wears one color every day and it makes a nice touch. This book is similar to a book called The Trouble with Chickens because it has a mystery just like this one.
I think kids should read this book because it has good illustrations and has a cool ghost mystery. The second reason is, kids the ages 7-10 should read this because it's easy and fun to read. Last reason is, it will interest the reader because it has a cool mystery about a haunted hotel. That's why you will want to read the book.