The Enemy Above: A Novel of World War II
Written by Michael Spradlin
Reviewed by Declan G. (age 9)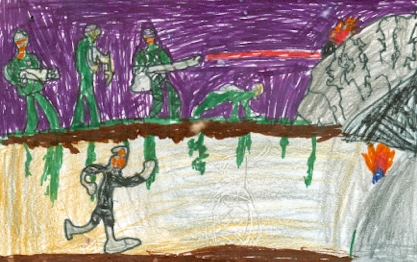 The Enemy Above is about a kid named Anton and his grandma and two uncles. Anton is in World War 2 and the Nazis are coming to attack the Jewish. Anton has to lead his family out of from danger of the Nazi's way. Does he make it? Is he able to save himself and his family? Read the book to find out.
My favorite part of the book is when the Nazis try to find Anton and his grandma. This book is not like any other book I've read because it has so many different characters and adventures and I haven't read books that have been based on a big war. This book reminds me of my grandpa. He was in the army and in a war. This book made me wonder how hard it was for the people in that war and how they survived.
I think other kids should read this book because it is action packed and adventurous. I suggest this book to people that like war adventures would like this this book. If you like perspectives of other people's times then you will like this book and if you like history you will love this book enjoy reading.