EllRay Jakes is Not a Chicken
Written by Sally Warner
Illustrated by Jamie Harper
Reviewed by Jonah S. (age 8)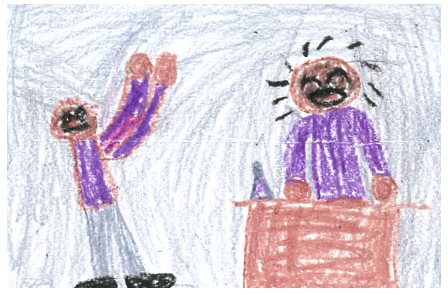 Have you read Ellray Jakes is not a Chicken well for those of you that have not, Ellray is a boy who lives in california. Ellray is always wanting to go to disneyland but never gets to. This week Ellray and his dad make a deal, the only way Ellray and his sister can go to disneyland is if Ellray behaves at school for the rest of the week. Ellray has many massive problems throughout the story, but if you want to know what those problems are, you know what to do read the book!
This book was juicy in detail. It reminds me of when I was little I wanted to go to so many places. I liked this book because there are a few epic scenes in this book. I thought the illustrations in this book are great because the illustrator includes the most tiny details. For example, he includes Ellrays dad's most valuable rock collection.
I would recommend this book to 3rd through 6th grade boys because every boy can relate to this book because of a few scenes. For example, Jared (Jared is Ellray's biggest enemy.) jumped out of a tree and tackled Ellray in the story to start a big fight.