The Witches
Written by Roald Dahl
Illustrated by Quentin Blake
Reviewed by Victoria P. (age 8)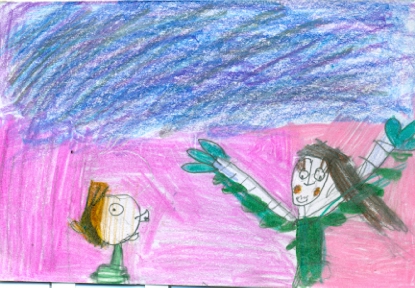 This book is about witches and it is a little creepy. It is about a boy and his grandmother. The other main characters and the Grand High Witch and all the other witches. The problem of the story happens when the little boy gets stuck in the room with the witches. And guess what? Witches hate children! What will happen to the boy? If you want to know the rest of the book read it to find out.
My favorite part is when the grand high witch turned the little boy into a mouse with the secret formal. That was my favorite part because it was kind of tells you funny ingredients. The character who changed in the book is the little boy. He changed because the witches turned him into a mouse. His personality did not change but his body changed. There are illustrations in the book. I like the illustrations because the illustrator makes the story more interesting. For example, my favorite illustration was the picture of the grand high witch because she is creepy looking.
I think other kids should read this book because it is entertaining and interesting. It talks about witches and how much they don't like children. I think kids in grades 2-5 should read this book because it's interesting and a little scary. If you are in Kindergarten you will be scared to read this book. If you want to know about witches this is the right book for you. It talks about what witches look like and what they wear and more cool stuff! Read this book to find out more.