Harry Potter and the Prisoner of Azkaban
Written by J.K. Rowling
Illustrated by Mary Grandpre
Reviewed by Michaela H. (age 8)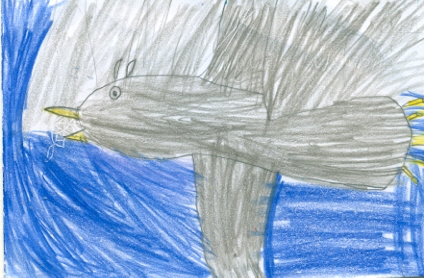 My book is called Harry Potter and the Prisoner of Azkaban. The characters are Harry Potter, Ron Weasley and Hermione Granger. Harry, Ron and Hermione go to Hogwarts Schools of Witchcraft and Wizardry. At Hogwarts there's a rumor going around about how Sirius Black broke out of the prison of Azkaban. Sorry I can't tell you the rest, but read the book to find out if Sirius really did escape and what the kids do about it.
My favorite part of the book is when Harry and Hermione save Sirius. I like that part because they are showing compassion. It's important to show compassion because they are being kind to someone. The character that reminds me of my sister is Sirius Black because my sister gets in trouble a lot and he got in trouble in a way that he got himself into prison. My sister gets in trouble for not cleaning up her room. This book reminds me of a time me and my dad were watching TV. There was person who broke out of prison. Why would someone do that?
I think other kids should read this book because it is filled with strange creatures. I recommend this book to 9-14 year old kids. A person that loves magic, adventures, and Harry Potter would like this book. One part of the story that might interest readers is when Harry finds out that Si, oops I can't tell you read the book to find out.