Big Nate: In A Class By Himself
Written by Lincoln Peirce
Reviewed by James W. (age 8)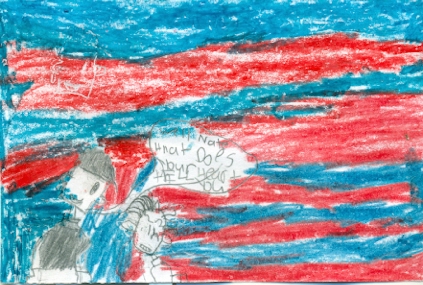 This book is about a kid named Nate Wright. He is a nice boy but makes a lot of mistakes. Nate gets in trouble a lot. Nate thinks he does not do anything wrong but other people think he is doing things wrong. Everything Nate does effects the next thing he does. Does he fail his test? Should he have used his teacher's gym clothes? Is he right or is he wrong? Read the book to find out.
I like this book because it is a funny book and it has all the things that I like to read in a book. For example, I love jokes in a book. This book is written like a comic book, so there's jokes all over. I like the character Nate because he is funny and makes me laugh. And he always gets into trouble. I also get in trouble sometimes because I talk a lot in school, so I am kind of like Nate. My book is related to the Diary of a Wimpy Kid series because it is written like a comic book just like that series. I love word bubbles in a book.
I think other kids should read this book because it is very funny. A reader that would like this book is a reader who likes to laugh while reading. It is good for 2nd through 4th graders.