Revolutionary War on Wednesday
Written by Mary Pope Osborne
Illustrated by Sal Murdocca
Reviewed by Dillon G. (age 8)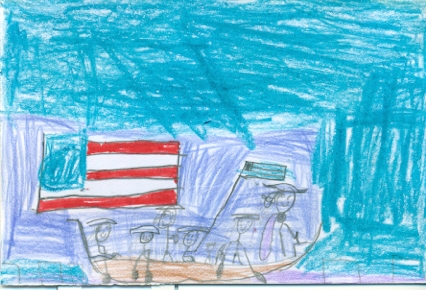 Jack and Annie have traveled in a tree house to the Revolutionary War. Jack and Annie went to the Revolutionary War to get something to send. While Jack and Annie were hiding behind a rock, some men were near a camp fire. The captain heard Jack and Annie talking and captured the kids. Did the men let them free? Who do the kids meet along their journey?
My book was in the Magic Tree House series. My favorite part is when Jack and Annie meet George Washington. George Washington is my favorite president. I would have loved to meet him! My favorite charter is Jack. Jack reads a lot of books every day. He never wants to be in their mission at all in this book, but he always gets stuck doing the mission anyways.
I think kids in grades 1-3 should read this book because it is about a war that was a long time ago, the Revolutionary War. If you like history you chose the right book. This is a good book because it tells you about George Washington and has fun adventures.