The Littles Have a Wedding
Written by John Peterson
Illustrated by Roberta Carter Clark
Reviewed by Chelsea C. (age 10)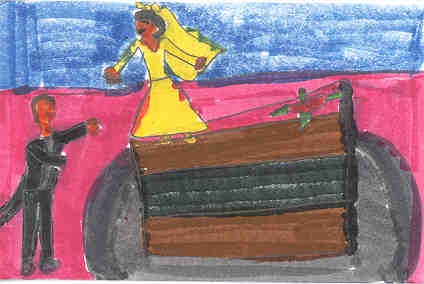 "Oh! Dinky, I'm so happy for you!" said Mrs. Little. This story is about tiny people: The Littles. There are nine Littles: Mr. Little, Mrs. Little, Baby Betsy, Uncle Pete, Aunt Lily, Granny Little, Tom Little, Lucy Little, & Cousin Dinky Little. Cousin Dinky is a glider pilot. He delivers mail to all the tiny people in Big Valley (Where they live.) He is getting married to Della Kett. She promised to be an adventurer just like Dinky. Dinky looked and looked and finally he found a place to have a wedding: the Buttons. If you want to find out about their trip, come on & read the book!
This book is very adventurous. And do you know what? I loved it!!! It was so exciting, adventurous, and scary all at the same time. I really do love this book! Another reason I like this book is because the illustrations are fantastic! They are all done in pencil, no color, but they are GGGRRREEEAAATTT! I also like this book because one character is very adventurous, excited, responsible, and he always takes care of his younger sister. His name is Tom Little. I love this book, and you will too!
This book is very exciting because the characters travel! I love exciting books! I really recommend this book to people who like exciting books too. I recommend it! So please read it!