EllRay Jakes is Magic!
Written by Sally Warner
Illustrated by Brian Biggs
Reviewed by Travis C. (age 8)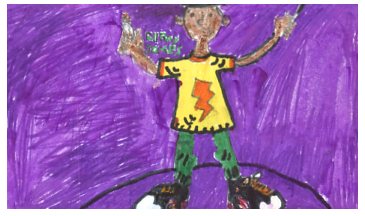 In Ellray Jakes is Magic, Ellray is SCARED because he has to perform in front of the whole entire school! In the beginning, the boys are having a little fun by playing king of the mountain. Corey was the king for the longest. Ellray was disappointed. In the middle, the principal announced that the 2nd and 3rd graders are hosting a talent show and the whole school will be there! Ellray was very, very, nervous. One day before school the third graders chose the people that are going to perform. Who will perform and who won't?
Ellray Jakes is Magic is a fun book to read! I like the part when Alfie holds onto Ellray's dad's leg. Ellray's dad tries to walk, and for a second he is successful, but then he falls over. I also like the part after the talent show when they have a party and Jared went crazy! Jared went crazy because of all the desserts. The dads had to block big and strong Jared so he wouldn't get into all the desserts. Another funny part was when Jared and Stanley did hip-hop dancing for the talent show. Everybody loved the dance moves they did.
I recommend this book to 3rd to 4th graders. This book is wonderful and challenging at the same time. I think that it is weird that Ellray put his name on the list for the talent show and then says he doesn't want to but it is too late. If you like the book then get it because...... IT IS AWESOME!!!!!!!!!!!!