Lulu and the Brontosaurus
Written by Judith Viorst
Illustrated by Lane Smith
Reviewed by Cassandra D. (age 9)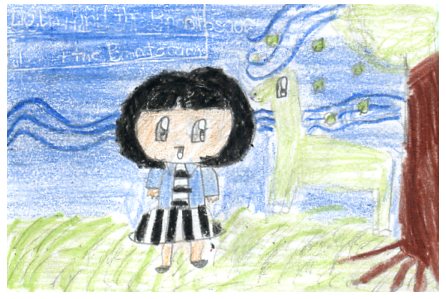 Lulu is a greedy little girl who throws tantrums because she always wants something and makes a big fuss about it. Lulu wanted a brontosaurus for her birthday, as a pet. At dinner Lulu asked her parents if she could have a brontosaurus, but her parents said "no". Lulu really wanted a brontosaurus, so Lulu packed her stuff and went into the forest. When she went into the forest, she was prepared. In the forest, she passed some animals. She went past all of the animals. It was getting late so Lulu went to sleep. In the morning, Lulu woke up and saw a brontosaurus. Lulu said "I found my pet".
"Pet". "I am not a pet". "You are!" said the brontosaurus.
Lulu runs away. Will Lulu make it home in time for her birthday?
I like this book because it has a lot of funny parts in it. One of the parts I liked was when the brontosaurus said that Lulu was his pet. Another funny part was when Lulu was taking stuff out of her bag and giving it to the animals, that was really funny. I also like the part when Lulu ran away. She went right past the animals. The animals were staring at her, and they didn't attack her. They thought she was going to give them more stuff, but she didn't. This book makes me wonder, what the next book is going to be like. What does Lulu want in the next book? What does she do?
I recommend Lulu and the Brontosaurus, because it's really funny, specifically, the time when the brontosaurus wanted Lulu as a pet. I would like to recommend Lulu and the Brontosaurus to all ages and for people who like funny chapter books. I love how Lulu is such an interesting person. She is adventurous and brave. I love Lulu and the Brontosaurus, and I know you will too! Also because it's a great book.