How I Became A Pirate
Written by Melinda Long
Illustrated by David Shannon
Reviewed by Landon B. (age 9)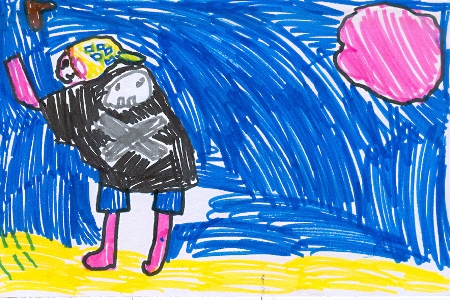 Do you like pirates? If you do this is a good book for you . There is a kid named Jeremy that loves pirates and he was at the beach. One day Jeremy saw a pirate ship . The pirates invited Jeremy onto the pirate ship. All kinds of crazy things happen while they find a place to bury the treasure. Jeremy teaches them soccer. They teach him pirate manners including shouting loudly. If you really want to know how this pirate story ends, you will have to read the book AAAaarrgh!
In my opinion, I think is a great book because I like pirates and the silly things they do. I also like that they always say argh! My favorite part is when Jeremy taught the pirates how to play soccer on the pirate ship. You're going to have to read more to see what other silly things happen in the story. I also like how the pictures of very colorful and created with a lot of detail. This book reminds of the time when I was a little boy and was learning how to play soccer just like the pirates did. My coach tried to do fun drills to help me get better and play well.
I think kids ages 6-10 will enjoy this book. They will like the colorful pictures and the funny story. I recommend you get this book.