There Was an Old Lady Who Liked to Ride
Written by Jared Lee
Reviewed by Dylan O. (age 8)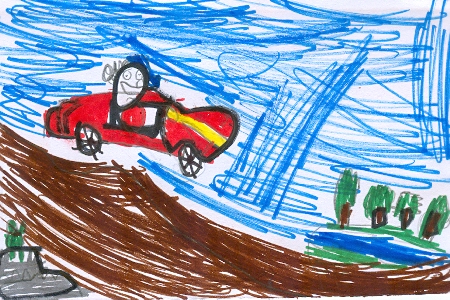 Do you like funny books? If you do then this book is just right for you. This book is about an old lady who likes to ride all kinds of things. She likes to skateboard; she likes bikes and even likes to glide high in the sky. If you want to know more about this wild old lady, then read the book.
The story is funny because we are not used to seeing an old lady doing these kinds of activities such as gliding in the sky and riding the skateboard. She is very silly and acts like a kid.This book and the old lady remind me of myself because the things she does in the story are the same crazy things I like to do. I like to ride bikes, ride my skateboard and speed in go-carts.
I think kids should read this book because it is not too difficult and it helps improve your reading. The story is funny and it makes me chuckle when I read it and think about the crazy old lady doing those cool things. Kids who like books about funny phrases and seeing silly pictures will enjoy this story. So go to your school library to take out this book but don't read it there in case you begin to laugh out loud.