The Land of Stories An Author's Odyssey
Written by Chris Colfer
Reviewed by Lauren C. (age 9)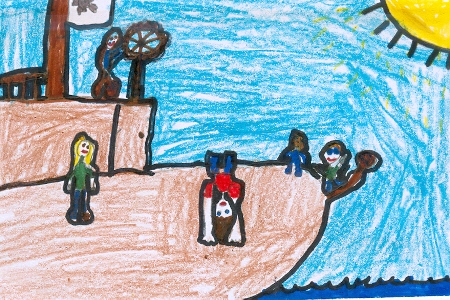 Do you like adventures? Then you should read The Land of Stories an Authors Odyssey. Alex and Conner travel into the worlds of Conner's short stories to recruit an army of their own to fight against the Masked Man. They travel through Conner's stories Starboria, Galaxy Queen, The Ziblings and The Adventures of Blimp Boy. But the Masked Man already has villains from Oz, Neverland and Wonderland. Who will win? Well, you will just have to read the book to find out.
I really enjoyed reading this book. It is probably my favorite book I have ever read. I liked it because there is a lot of adventure in each story they travel to. My favorite part is when Alex and Conner travel into the first story, and Conner claims to be their creator, and no one believes him! I thought this was very funny. This book is part of The Land of Stories series. It is similar to the fourth book because they also travel in that book. However, it is still very different. My favorite characters are Conner and Captain Aunburn Sally. In my opinion, this is a very good book.
I recommend this book to kids who like fantasy books and a good adventure! It has 438 pages and 28 chapters. There is a 7-page preview at the end of the book. It may sound long… But it is so good.