Friendship According to Humphrey
Written by Betty Birney
Reviewed by Kaylee P. (age 8)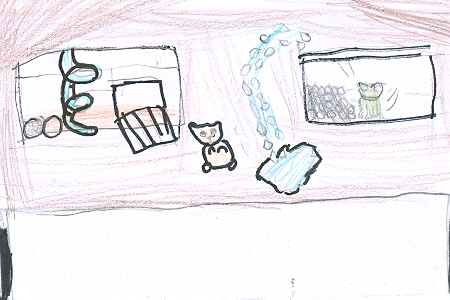 Squeak! Squeak! Squeak! This is a book about a hamster named Humphrey that lives in Room 26. Humphrey has to adjust to the new class pet, Og the Frog. Og is now getting more attention than Humphrey, so Humphrey is getting jealous. Humphrey is trying to be Og's friend. He is having a hard time communicating with him. However, he does not give up. Will they ever become friends or just hate each other? Well you are going to have to squeak into the book and hop through those pages and find out what happens!
I think this book is spectacular because I love how they act toward each other. My favorite character was Og because he is new and I love how he reacts and always cheers on Humphrey when he is getting out of his cage at night. I found Humphrey interesting because I did not see that other side of that cute fluffy, hamster!
I recommend this book because it made me laugh. If you enjoy books that have humor, this book is for you. This book has 147 pages. Please know you need to be prepared for many Humphrey and Og adventures.