Dog Man Unleashed
Written by Dav Pilkey
Reviewed by Alex A. (age 8)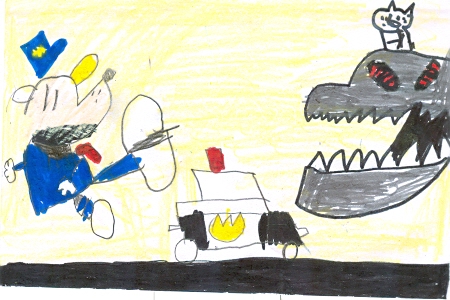 Have you ever met a dog who turned out to be a hero? In Dog Man Unleashed, Dog Man finds out from the sheriff that Flat Petey has taken the town's money. Something must be done and Dog Man tries to save the town! Does Dog Man save the town? You will have to read this book to find out the rest.
I think the characters are heroes because the most important character, is Dog Man because he saved everyone from Flat Petey.I had a connection to this character because in first grade I dressed up in jobs we want to be when we grow up. I dressed up as a mail man. In this story Dog Man dressed up like a police officer. This book was very funny. Dog Man does silly things.
I think other kids should read this book because Dog Man is a hero and if you like a story about a hero who saves people from Flat Petey and Flat Petey tries to get everyone's money. Children who like a good crime fighting story will enjoy this book. They will see the hero in action save people from flat Petey.
COMMENTS: Please be sure to include three opinions with supportive details/examples.