Who's That Scratching at My Door?
Written by Amanda Leslie
Illustrated by Amanda Leslie
Reviewed by Katherine P (age 6)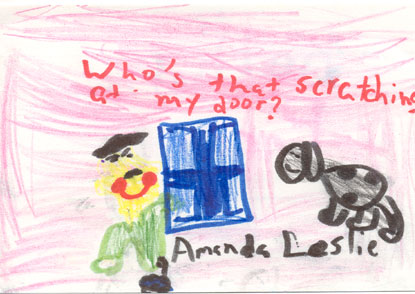 This story is about a boy who is looking for a friend at his door. This book is funny because at the end he found a favorite, a sniffy and licky cuddly puppy. The puppy said "woof" and "scratch" "sniff" and the boy said HOORAY You're just right for me! Come in and play.
When the boy saw the Lion he got really scared and told him you are too scary for me. The boy changes his clothes every time he opens the door and the colors of the pages change.
All the boys and girls will love this book because it is funny and my favorite part is the tall and big giraffe.