Lulu and the Brontosaurus
Written by Judith Viorst
Illustrated by Lane Smith
Reviewed by Sarah Z. (age 8)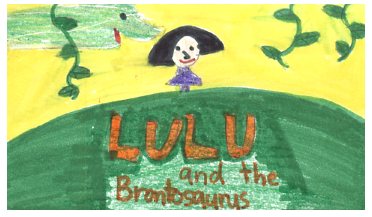 One day, Lulu tells her parents that she wants a Brontosaurus for her birthday. Her parents say no, and try to explain why she can't but Lulu still wants one, so she screams and screams, until it is the day before her birthday. And since her parents still don't say yes, she heads out to find one herself. Will she make it? Will she find a Brontosaurus? Read the book to find out.
I like this book because it is funny. Something funny was when the narrator changed the ending. I also like this book because I like how Lulu changes from the beginning to the end. In the beginning she is bad, in the end she is good. Lastly, I like this book because it is exciting. It is exciting when Lulu starts to walk to the forest.
I would recommend this book to people who like funny books because this book is very funny. I would also recommend this book to my mom because she likes reading about adventures. Lastly I would recommend this book to my friend Angel because she likes series books. I really liked this book, and I hope you like it too.