I Am Jackie Robinson
Written by Brad Meltzer
Illustrated by Christopher Eliopoulos
Reviewed by Sebastian E. (age 8) & Jack P. (age 7)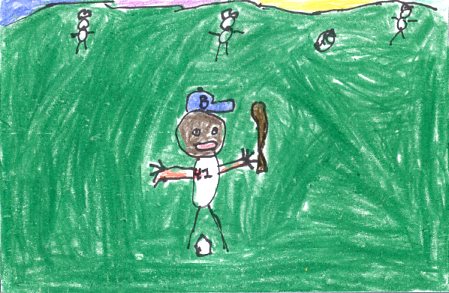 Jackie Robinson had a rough life growing up. People threw rocks at him and called him names because he was black. Also, at the pool there was a "white only" sign and he couldn't swim there except for one day of the week. At school, he was always good at sports and always played to win. His mom taught him "when you do something good, it brings out the good in others". Through high school and college he played baseball, football, basketball and track. One day Branch Rickey had an idea to get a black player to join the Dodgers. He asked Jackie Robinson if he thought he could handle it because he would be the only black player on the team and people would be mean to him. But he took the risk. Pitchers on the other team threw baseballs at his head. They called him names and spit at his shoes. Sometimes when he ran to the base someone on the other team would step on his foot. But in his first game on April 18, 1947 he hit a 340 foot home run and scored four runs. At the end of the game everyone was cheering for him.
The book is written and illustrated like a cartoon. It does not look realistic and has word bubbles.
We think Jackie Robinson was a great man because even though people were mean to him he never gave up. He was a good influence for other kids - if you are black or white it doesn't matter about your color.
I (Jack) didn't like this book because it's about a baseball player and I hate baseball.
I (Sebastian) LOVED this book because I love all sports.
We recommend this book to kids in Kindergarten through 8th grade because it tells you how Jackie Robinson became famous and could teach you a really good lesson about racism.