Ms. Yonkers is Bonkers
Written by Dan Gutman
Illustrated by James Palliot
Reviewed by student in Mrs. Adolphus' 3rd Grade Class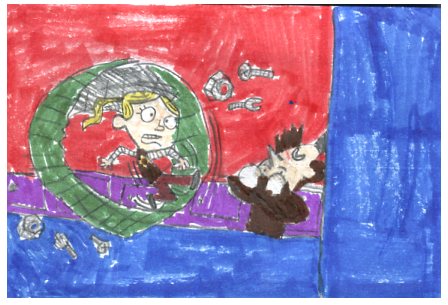 Have you ever had a very weird and funny teacher? The book "Mrs.Yonkers is Bonkers" is a very good book this book was about how Mrs.Yonkers is the new computer teacher at a school called Ella Mentry Elementary school. One time Mrs.Yonkers went on Ebay to buy Cheeseheads. Mrs.Yonkers types with her feet at that moment I thought that was very funny. There is a nurse named Mrs.Cooney. Mrs.Cooney is banning Junk food.
My opinion about the book is that it was very funny like when Mrs.Yonkers typed with her feet. She also self destructed a robot! I rate this book a double thumbs up. This book was a very good book. I really enjoyed this book. It was very crazy. For example Mrs. Yonkers made a machine that turned healthy food into junk food. That was crazy, and I liked it. I enjoyed the crazy and funny things Mrs. Yonkers did.
I recommend this book for people who like funny books. This book is great and really made me laugh. The author, Dan Gutman, is a great author and you should read his books. The characters are Niel, Michael, A.J., Ryan, Emily, Andrea, Mrs. Yonkers, and Mrs. Cooney. Once you start reading this book you won't be able to put it down!