Chrysanthemum
Written by Kevin Henkes
Illustrated by Kevin Henkes
Reviewed by Mason P. (age 6), Miles D. (age 6), John W. (age 6) & Reid B. (age 6)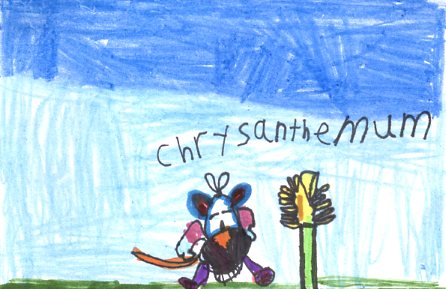 This book is about a mouse named Chrysanthemum. She has a very long name and she is named after a flower. All the kids in the class make fun of her name because her name is very long. She feels sad. She doesn't want to go back to school. In music, the teacher said that her real name was Delphinium Twinkle. She's named after a flower too. Read the book to find out if school gets better for Chrysanthemum.
We liked the book because Chrysanthemum and Mrs. Twinkle both have names that are flowers. The lesson in this book is don't make fun of people's names. We thought the kids in her class were mean because they made fun of Chrysanthemum's name.
We think kids in 1st to 3rd grade would like this book because they could learn a lesson about not teasing other people about their names.