Poppleton
Written by Cynthia Rylant
Illustrated by Mark Teague
Reviewed by Setareh B. (age 7)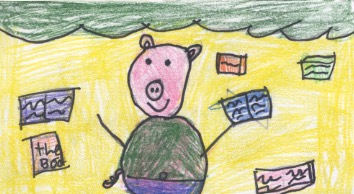 Poppleton the pig went to the library every Monday. If Cherry Sue, his neighbor, asked him to come over for tea on Monday, Poppleton would say, "Sorry, library day." If there was a parade in town, Poppleton would say the same thing. At the library, Poppleton always got a table to himself. He spread out each of his things. Poppleton liked adventure stories. Sometimes he needed tissues for sad parts. He needed lip balm for dry parts. Sometimes he needed his pocket watch for a slow part. He loved his adventure stories. If you want to hear the end of the story, you will just have to read it.
I like the book Poppleton and the chapter called The Library because it is serious and I like serious books. My favorite part is when Poppleton gets a table to himself. This book reminds me of when I go to the library and get a table to myself. I like the illustrator, Mark Teague, because he uses lots of colors. I also like Poppleton because the same author Cynthia Rylant wrote Mr. Putter and Tabby books too. I like all the Poppleton stories because they are fiction and I like fiction. I also like Poppleton because he is a pig and I like pigs.
I recommend this book for ages 4-7 years old because there are easy words and short sentences. If you can't tell what the words say, you can look at the pictures. It is a very good book. This book is for kids in kindergarten to second grade but mostly anybody can read it if they have the book at home. This is a series book so people who like series books should read it.