Mr. Putter and Tabby Walk the Dog
Written by Cynthia Rylant
Illustrated by Arthur Howard
Reviewed by Scarlett B. (age 7)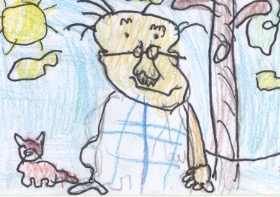 In Mr. Putter and Tabby Walk the Dog, Mr. Putter is nice because when Mrs. Teaberry slipped on a kiwi and couldn't walk Zeke for a week, Mr. Putter said he would walk Zeke. Mrs. Teaberry is Mr. Putter's neighbor. Mrs. Teaberry hoped Zeke wouldn't wrap around the trees and chase other dogs. Mr. Putter knew that wouldn't happen. When Mr. Putter walked Zeke, he was a nightmare. He did everything Mrs. Teaberry said he wouldn't do. Mr. Putter went home and had warm milk and a nap. He couldn't believe what Zeke had done. "Zeke was not a dream dog" said Mr. Putter, "Zeke was a nightmare." The second day he did the same thing. If you want to read the rest, you should get the book!
I like this book because Mr. Putter always needs a nap. Also, in other Mr. Putter books like Bake the Cake and Catch a Cold, he also needs a nap. Mr. Putter is so funny because he keeps saying that Zeke is not going to be a nightmare, but he always is. Mr. Putter reminds me of when I had to walk the dog and I got pulled a lot. I feel when I read this book that I want to read it again. I like Cynthia Rylant because I like her other books. She makes Poppleton and Mr. Putter and Tabby books. I also like the books because they have watercolors in the illustrations and I like watercolors. I like this book because it is a very funny book because Mr. Putter says a lot of funny things and he does the wrong things sometimes. When Zeke was a good dog, Mr. Putter gave him hot fudge and dogs are not allowed to have chocolate or they get very sick. I don't think he knows a lot of things about dogs and what they can or cannot eat. I think this book is really weird because Mr. Putter doesn't really know what he is doing. I picked this book because I wanted to read it and you should too.
I picked this book because I wanted to read it since I was a baby. I think if you are in kindergarten through 7th grade you would like this book a lot. I think kindergartners would like it because they would be able to read the book using the pictures on the pages.