Prince Fly Guy
Written by Tedd Arnold
Illustrated by Tedd Arnold
Reviewed by Ryan A. (age 7)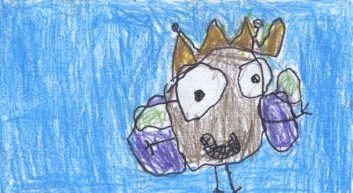 Fly guy is a fly that can say his friend's name, Buzz. In the book Prince Fly Guy, Buzz was doing his homework. He had to make a fairytale. Fly Guy helps Buzz and Buzz says "Once upon a time there was an ugly troll." Fly Guy was not happy because Fly Guy wanted the story to be a fairytale with a prince. Then Buzz said, "What about a smelly pig herder?" Fly Guy still did not like the story. Then Buzz asked, "What about a prince?" and Fly Guy said, "Yezz!" Then the story had the prince walking to a dark castle but Fly Guy didn't like it because it would be too tiring. Fly Guy was imagining him being a prince and being really tired from walking. Buzz then asked what if he rode to the castle. Fly Guy didn't like that because he would fall off the horse. Then Buzz asks what if he flies to the dark castle? When the prince got there, he ate porridge. Fly Guy did not like that. Then Buzz said what about if the prince freed a princess and a giant lived in the castle? If you want to find out what happens in Buzz's story, you'll have to read the book yourself!
I love the book Prince Fly Guy because it is funny. My favorite part is when Fly Guy imagines he kisses a frog. When Buzz needed help, it reminded me about when I needed help with my homework. You can predict what is happening in Prince Fly Guy by using the pictures because they help people understand the book.
I think kindergartners, first graders and second graders should read this book. If you like funny books, you will like Prince Fly Guy. If you like surprises you will also like Prince Fly Guy. If you like fairytales, you will also like Prince Fly Guy. If you read the other Fly Guy books, you will probably will like this book too. If you're 5-7 years old you should read this book too!