Mr. Putter and Tabby Dance the Dance
Written by Cynthia Rylant
Illustrated by Arthur Howard
Reviewed by Rex W. (age 7)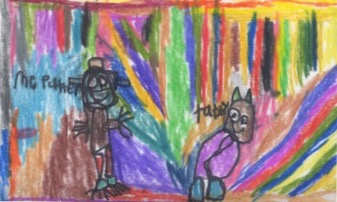 Mr. Putter is a character in the book and he is sleepy and old. His cat Tabby is orange and white. Mrs. Teaberry (Mr. Putter's neighbor) and Mr. Putter liked a lot of things in common like the Sunday funnies and rain and Mrs. Teaberry had a dog named Zeke. Lately, Mrs. Teaberry had been watching a ballroom dancing contest on tv. One day, Mrs. Teaberry called Mr. Putter and said, "I think we should go ballroom dancing." Mr. Putter looked at Tabby who was napping in the geranium. Then, Mr. Putter responded, "I haven't danced since 1947." If you want to find out if Mrs. Teaberry goes dancing with Mr. Putter, then you will have to read the book!
I like the book Mr. Putter and Tabby Dance the Dance because I also have a cat at home named Coco. I thought Zeke was funny because he grabbed a man's tuxedo tails and then Zeke grabbed a lady's poodle skirt. I also thought Tabby was funny because she batted the sparkles on the walls with her paw. This book is a series book. It is different than all of the other books in the series because it is about dancing and none of the other books are about dancing. I also liked the pictures because they helped me understand the book.
I recommend this book for people who like to laugh. I recommend this book for people of all ages and adults who like to dance.