Mr. Putter and Tabby Row the Boat
Written by Cynthia Rylant
Illustrated by Arthur Howard
Reviewed by Jenna R. (age 6)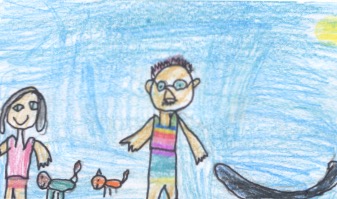 In the book, Mr. Putter is very hot because it was really hot outside. Mr. Putter has a neighbor, Mrs. Teaberry and her dog, Zeke. They were best friends and they were also hot. They went to the pond and they rented a boat and they went across the pond. Tabby, Mr. Putter's cat, and Zeke were amazed by the water. Mrs. Teaberry and Mr. Putter put their feet in the water and they had lunch on the pond. You will just have to read the book to find out what happens!
I love this book because Mr. Putter is very funny and Tabby is too. They make me laugh when I read the books. For example, in Mr. Putter and Tabby Walk the Dog, Mr. Putter said, "Zeke won't tug on the leash." but Zeke did. My favorite part is when Mr. Putter is very hot. This is my favorite series ever!
I think that people ages 5 through 12 will like this book. Whoever likes adventures will like these books because Mr. Putter is adventurous in the books. The books in this series are good books to read with your parents.