Charlie the Ranch Dog: Charlie Goes to the Doctor
Written by Ree Drummond
Illustrated by Diane de Groat
Reviewed by Emery S. (age 8)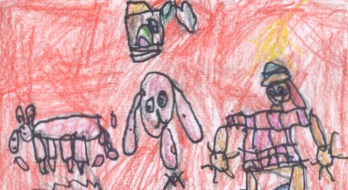 Charlie is a ranch dog. Charlie did not want to eat bacon. Charlie wasn't hungry, he was sleepy and did not feel well so he went to the vet. He did not want to go to the vet. When he went inside, he saw the other scared pets. One of them was named Hickory. The doctor was nice. Her name was Dr. Jan. What does doctor Jan do to Charlie? I'm not going to tell you what happens. You will have to read the book!
I think the character Charlie is funny and cute. For example, when the vet came in with the tools, Charlie almost cried because he was scared. He almost threw up when he got to the vet because he was so scared! I think the book is funny because I think pets are crazy. This book is part of a series but this is the only one I have read. I hope to read more and you should too!
I think this book might be best for six to eight year olds. If you like pets, then this is the book for you!