My New Friend Is So Fun!
Written by Mo Willems
Illustrated by Mo Willems
Reviewed by Eisen O. (age 7)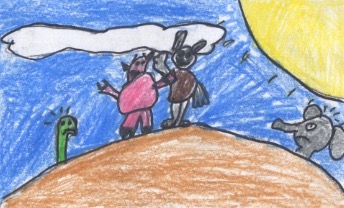 Elephant and Piggie are best friends. They are in every book in the series. Elephant and Snake can't find Piggie. Piggie is with Brian the Bat. The problem is - what if they are having too much fun without them? Elephant is jealous. He doesn't want to lose his best friend Piggie! And Snake doesn't want to be lose his best friend Brian. So they search for them and then… you will just have to read the rest!
I think that this book is funny because sometimes the characters act weird like when Gerald and Snake were saying stuff like, "He's having so much fun!" I like this book because you can make your own voices when reading the words. I like the book because the characters are super funny. I think that the book is awesome because their characters really explain themselves and their feelings.
I think that you will like this book because the book is super funny and will make you laugh. I think you might read the book because Mo Willems is a famous author and some people know Mo Williams already. Also, I think you will like the book because their is a talking elephant and a talking pig and that's hilarious! I think all people would like the book!