The High-Rise Private Eyes #4: The Case of the Troublesome Turtle
Written by Cynthia Rylant
Illustrated by Brian Karas
Reviewed by August S. (age 7)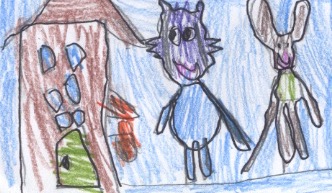 Jack Jones and Bunny Brown are detectives. Jack is the snoop, Bunny is the brains. Together they crack cases wide open. Bunny is painting and then Mr. Paris the owner of the toy store says, "Someone keeps taking my balloons!" Bunny asked, "Every day?" Mr. Paris said, "No, only on Fridays." Then Jack and Bunny are going to solve the case of the missing balloons. If you want to know what happens next, you have to read the book!
I think the book is so good that I did not want to stop reading. It is awesome because it is a mystery and I like mysteries. The book is very good. It makes me laugh. It is very funny. For example, one funny part is when bunny painted Jack. Another funny part is when Jack interrupted Mr. Paris and asked if he had any Android Attack action figures. My favorite part is when Jack is about to get popcorn because Jack didn't know why he was getting popcorn to get back the balloons. Bunny had the idea of sticking the note into the cup of popcorn to get the balloons.
I think people who like funny mystery books should read this book because it is not serious and it is a mystery. Also, first graders to third graders should read this book.