Hooray for Fly Guy! (Fly Guy #6)
Written by Tedd Arnold
Illustrated by Tedd Arnold
Reviewed by Aron D. (age 7)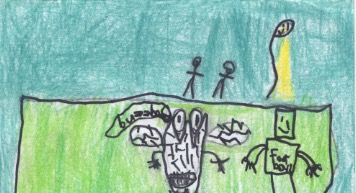 In Hooray for Fly Guy! Buzz is the boy who owns fly guy. Buzz plays football but his team needs a player because it is the big game. Buzz said, "Fly Guy can play." The team laughed and the team said that flies can't play football. Fly Guy tries to kick the ball and the ball falls on him. Next, Buzz made a helmet for Fly Guy. They played football. They did jumping jacks. They planned a secret play but when they got there the coach said, "One new player joined our team." Fly Guy sat on the bench. The game started. His team scored and Fly Guy cheered. The other team scored and Fly Guy worried. The other team scored a lot. There was one second left in the game. The other team was ahead. They were about to score and the new player was hurt. Coach let Fly Guy in the game! If you want to know how it ends, you'll just have to read the book!
I like Hooray for Fly Guy! because it is not too long and not too short. I like the illustrations because it looks realistic because it looks like realistic animation. I like the book because it has an example of a beautiful friendship in it. For example, Fly Guy and Buzz are good friends. In the book, Hi Fly Guy, Buzz meets Fly Guy. They have been friends for a long time. It reminds me of when I was in pre-K and I made my first friend.
I like Hooray for Fly Guy! because it is a good book for first graders, second graders and kindergartners. It is a good book. I keep reading it and reading it and I bet you will too because it's a good book.