Mr. Putter and Tabby Pick the Pears
Written by Cynthia Rylant
Illustrated by Arthur Howard
Reviewed by Ariella B. (age 7)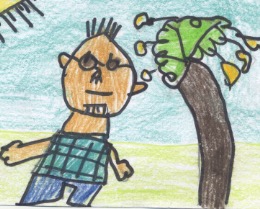 Mr. Putter is a sleepy old man. Tabby is Mr. Putter's cat. This story is about when Mr. Putter tries to get the pears off the trees. He wants to get the pears off the tree to make pear jelly. The problem is he can't get the pears down because he has cranky legs. Then he has an idea. His idea is a slingshot out of underwear. If you want to see what happens in the end, you have to read the book.
I think that Mr. Putter and Tabby Pick the Pears is a funny book because when he makes a slingshot, he makes it out of underwear. This is also my favorite part. He picks up the apple and pulls it back and "zing." "Zing" is the sound that the slingshot makes. It reminds me of when I tried to pick apples off the apple tree! The illustrator Arthur Howard put so much detail in the pictures. He used light colors that blended together. I felt excited when I read the story. Tabby reminds me of my aunt's sleepy cat Whiskey. The book is like Poppleton. Poppleton is another series by Cynthia Rylant. It is the same because in both stories, they both have friends that are girls! This book is not too long and not too short. I never wanted to stop reading.
I think that Mr. Putter and Tabby Pick the Pears is a good book for grades K-3. If you like funny and fiction books, you should read Mr. Putter books.