The Roller Blades
Written by Sandra Iversen
Illustrated by Marina McAllan
Reviewed by Mihiret M.V. (age 7)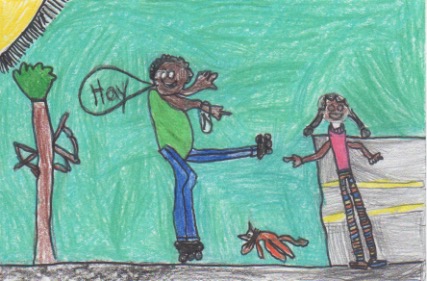 A boy named Curtis got roller blades for his birthday. He was going to his friend's home. His sister said, "Put your helmet on." His friend, Joshua asked if he could try his roller blades. He did try his roller blades, but he got hurt. The lesson in this story is to always wear a helmet.
I like that Curtis has a pair of roller blades for his birthday and his sister told him to wear a helmet and he did. I like that he listened to his sister. I like the part when he fell down and he laughed and he laughed. He got hurt, but he didn't get hurt too badly because he was wearing a helmet. That part was funny because when he fell down, he kept laughing and laughing. Read the book to find out what happens next.
I recommend this book to boys and girls who like to roller blade. This is a book about roller blades and it is also about safety. It is important for kids to know they have to wear a helmet. This book teaches us that you always have to wear a helmet so that you don't get hurt. I think boys and girls in kindergarten to second grade should read this book so that they learn how to be safe.