Small Saul
Written by Ashley Spires
Illustrated by Ashley Spires
Reviewed by student in Wednesday Book Club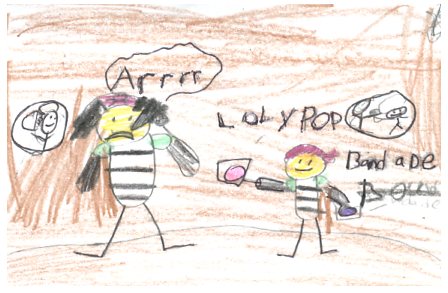 This book is about a little boy named Small Saul who wants to be a pirate. He tries really hard to be a pirate. He's not so good at being a pirate. He is sweet and pirates are not. Pirates fight and he does not. He gives pirates Band-aids and lollipos when they are fighting. Read the book to find out if he becomes a pirate.
We liked when Small Saul was thrown overboard because the pirates were mad at Small Saul. We liked the picture of when Small Saul was in the bath when he was a baby because it's funny and he is thinking about life at sea. We think the lesson is to always be nice and not to exclude people. Also, it's okay to be different.
We think this would be a good book for kids because it's funny, it's entertaining, and it's about pirates.