Amos & Boris
Written by William Steig
Illustrated by William Steig
Reviewed by Luke P. (age 7), Jack P. (age 6), Owen E. (age 8) & Sebastian E. (age 8)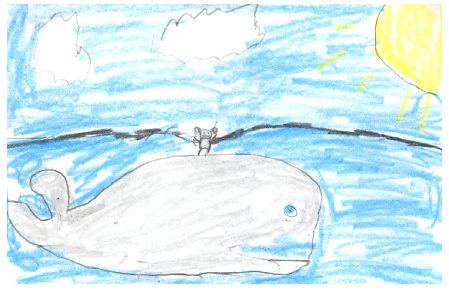 This book is about a mouse whose name is Amos who really likes the sea and he goes sailing. He is out at sea and he fell off the boat and he was afraid he was going to die. The next day, it was raining and when the rain stopped a whale named Boris came and saved him. They became really good friends. They both liked the sea and adventures. Boris brought Amos back home. They said they would be friends forever. A few years later, there was a hurricane and Boris got stranded on land. Read the book to find out what happens to Boris.
The lesson in this book is even the most different people on the planet can still be friends. The meanest person and the nicest person in the world can still be friends. Another lesson is that friends save each other's lives sometimes.
Luke liked this book because he liked Boris because his second favorite animal is a whale. Jack liked the hurricane part because he likes hurricanes.
We recommend this book because it's a good book because it's about friends. It's not scary at all. Kids would like it because it teaches you a lesson.