Small Saul
Written by Ashley Spires
Illustrated by Ashley Spires
Reviewed by Sebastian E. (age 7), Luke P. (age 7), Owen E. (age 8) & Jack P. (age 6)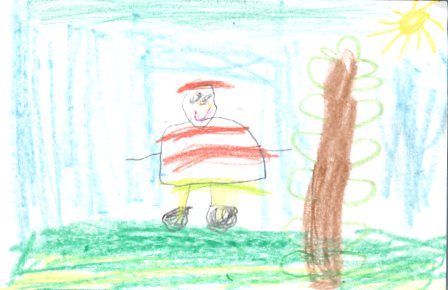 The book is about Small Saul who wants to become a sailor but the Navy doesn't accept him but the pirates do. He went to pirate school. He wasn't really acting like a pirate at all. The pirates were good at holding swords but Saul was good at singing. Small Saul was small and the pirates were big. Small Saul was nice and the other pirates were mean. The pirates were digging for treasure and Small Saul was picking flowers. The pirates didn't like him because he made cakes and was clean and nice. Read the rest to find out what happens to him.
We loved this book because it was about pirates. It tells you a lot about being a pirate and that you wouldn't want to be one because they are slobby and not so smart and they can get hurt. It was interesting because it teaches you a lesson to treat people with kindness and that it doesn't matter how you do things or how you look it matters how kind you are and what is on the inside.
We think other kids should read this book because it's about a boy who wants to be a pirate. Also, we recommend it to kids who like sailors or pirates.